We know Windows 11 is set to get Microsoft's Copilot built in, and we've just caught a glimpse of the AI assistant feature (well, actually, a couple of sightings, and we'll come back to the other one later).
In case you missed it (unlikely, admittedly), Copilot is the Bing Chat-powered integrated AI that pops up in a side panel to help in Windows 11, and Windows Latest managed to get a peek at an early version (add your own seasoning, and plenty of it, as with any leak).
There's a big caveat here, namely that the pre-release version of Copilot shown (in a very brief clip) isn't fully functional by any means.
Still, it gives you a flavor of how the Windows 11 helper – an assistant with a much, much grander vision than Cortana – will perform, and what it can do.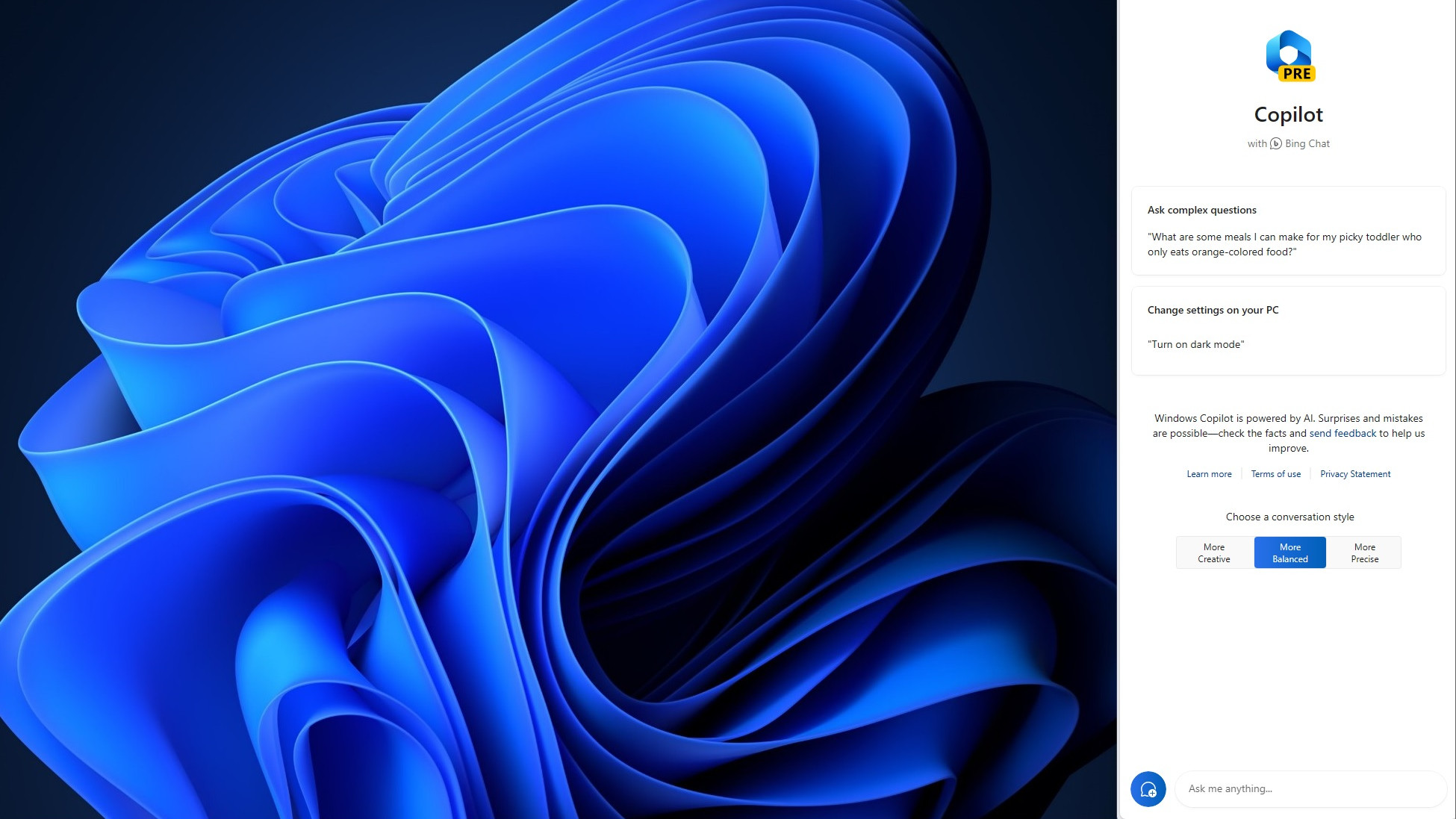 We see the user instructing Copilot to turn on Dark Mode (which, ahem, it fails to do – as noted, this isn't a proper working version), and a response to a food-based question (the queries work in much the same way as with the Bing chatbot already, and the three core personalities for replies are in here, too).
We don't see much here, and nothing of the really cool tricks that Copilot will eventually be able to do (such as turning on multiple features in one fell swoop to help with a certain aim like 'being more productive', or summarizing content to go in an email, right there in the app, in-line).
However, Windows Latest does observe that Microsoft will use in-house plug-ins to customize the Bing Chat experience in Windows 11, and that Copilot will utilize a system of "action cards" to detect how you are using the OS, and offer up intelligent suggestions based on that.
---
Analysis: Where art thou, Copilot?
Okay, so while this glimpse of Microsoft's AI is still very much early work, and not very exciting, it's a useful hint that Copilot is ticking along progress-wise. Because we've not heard anything from Microsoft since the initial announcement of the AI, when we were told that it'd be in testing in June.
Now, June is almost over, and it seems unlikely that a preview build is going to show up later this week with a functional Copilot doing its query answering and settings manipulating stuff.
That said, we've caught not only this sighting of Copilot from Windows Latest, but there was another one at the weekend. That was provided by regular Twitter-based leaker Albacore, who pointed out that recent Windows 11 preview builds in the Dev channel have a Windows Copilot button (hidden – and when enabled, it doesn't do anything, mind).
That's another hint that things are coming into place for Copilot's release to be tested in preview. However, we've got a feeling this will take a lot of internal testing before it gets to Windows Insiders, somehow. As the blurb in the Copilot side panel observes, it's AI-powered, and "surprises and mistakes are possible".
When it comes to a Bing chatbot query, a mistake is embarrassing enough, but with an AI embedded right into the heart of Windows 11, Microsoft is going to need to take a lot more care to avoid any potential blunders – even in testing.