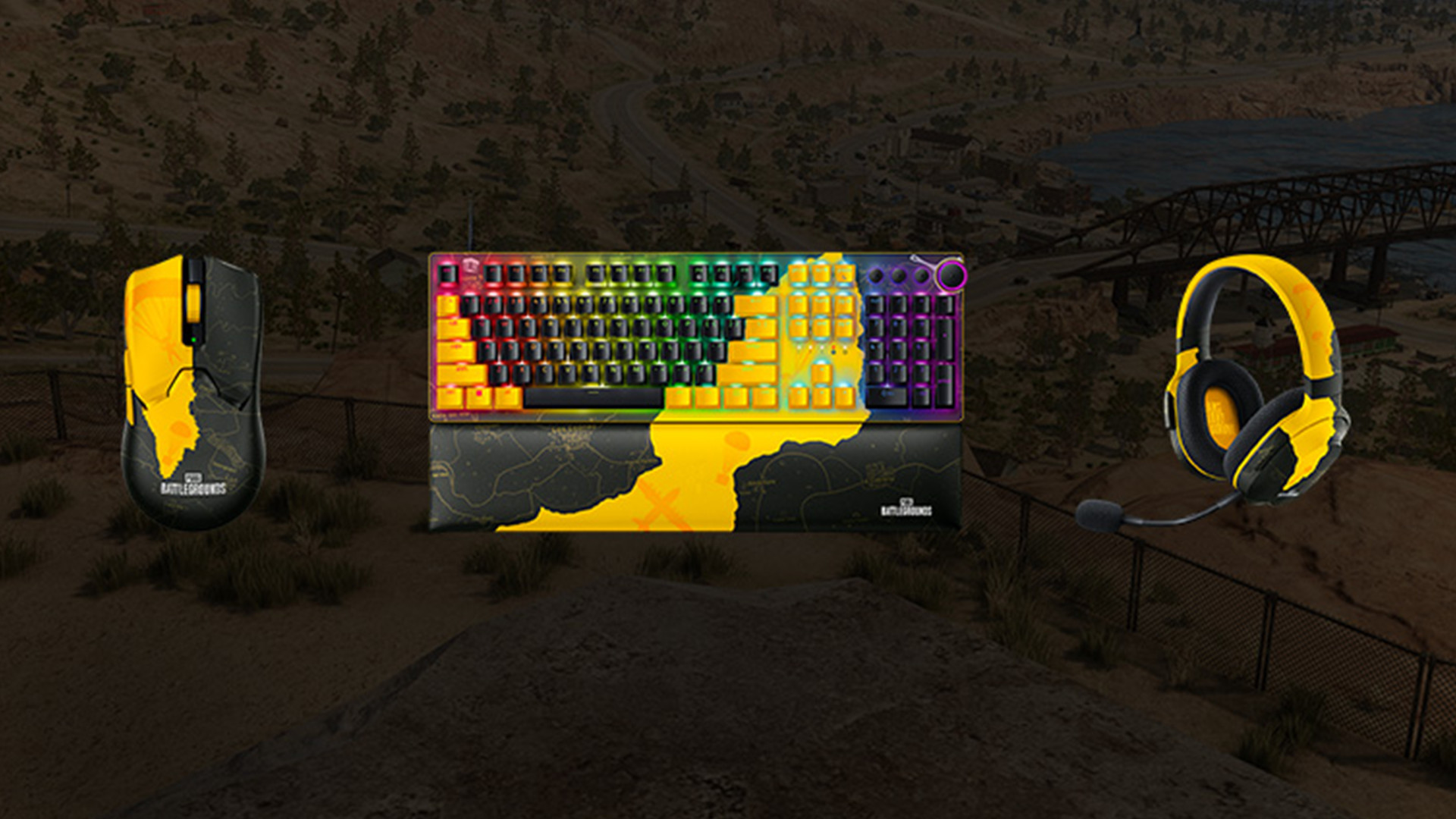 Razer has launched a new collection of gaming accessories based on the popular title PUBG: BATTLEGROUNDS, as part of a new partnership with Korean gaming conglomerate KRAFTON Inc.
There isn't anything new in the lineup. The company is simply taking some of its older products and giving them a fresh coat of black and yellow paint inspired by the in-game desert map Miramar. But Razer isn't skimping players out as the brand has selected some of its best peripherals to make up the trio. 
You have the Razer Huntsman V2 keyboard whose tenkeyless version made it onto TechRadar's list of the best gaming keyboards. Like the smaller model, the Huntsman V2 PUBG Edition comes with the company's proprietary Optical Switches, utilizing infrared light to register key presses instead of metal-to-metal contact. These switches offer users a "true 8,000 HZ polling rate" to deliver a lightning-fast 0.2ms response time. That level of response could mean the difference between losing or earning the coveted Winner Winner Chicken Dinner victory screen.
Comfort and precision
Next are the Razer Barracuda X, a pair of headphones that we really like for its great sound quality as well as its long battery life. Razer claims it can last 20 hours on a single charge, although in our review, we were able to stretch the battery out "a few extra hours". It may not be as high quality as something like the Razer BlackShark V2 Pro, one of the best gaming headsets right now. But at the very least, the Barracuda X supports spatial audio for extra immersion. These headphones can connect wirelessly to other gaming platforms so you can hop over to your PS5 seamlessly. 
You can pre-order the PUBG Editions of both the Huntsman V2 and Barracuda on Razer's website for just a little more than their base models. The keyboard will run you $229.99/€289.99 while the headphones cost $129.99/169.99. Shipping date is set for July 17 unless you pay an extra $10 to get them sent out on July 13.
What you can buy right now is the third device in the collection: the Viper V2 Pro PUBG: BATTLEGROUNDS Edition. It's a wireless gaming mouse known for its comfortable, lightweight design. The Razer Viper V2 Pro is a great pick for shooting games. PUBG matches can last a while after all, so you might as well be comfortable. Other notable features include optical switches like those on the Huntsman V2 for fast response times plus a battery life of up to 80 hours. You purchase the PUBG version of the Viper V2 Pro also on Razer's website for $169.99.
While we have you, be sure to check TechRadar's list of the best budget gaming PCs for 2023 if you're looking to get a new rig to play PUBG on without breaking the bank.