Paramount Plus is your home for all things CBS, along with networks like Nickelodeon, Comedy Central, MTV, Showtime, Paramount Pictures and MGM Pictures. Launched in 2021, this streaming service delivers thousands of hours with a vault of movies and shows you already love, along with new releases, and Paramount Plus Original programming.
While it doesn't have a library to contend with Netflix or Disney Plus, Paramount Plus has a library with over 30,00 streaming hours to dive into. This includes great new shows like Star Trek: Strange New Worlds, the iCarly revival, and Yellowstone prequel – 1883. They also add new content regularly, and new additions include The Curious Case of Benjamin Button, a hefty James Bond collection, the Rocky films, Paranormal Activity movies, along with classics like The Good, The Bad and The Ugly, just to name a few. 
Also the place to live stream NFL, Paramount Plus has amassed more than 39.6 million subscribers, and is now available in Latin America, Canada, and Australia, Europe and the UK with plans to expand even further. Stay tuned for more on how to watch it, how much it costs and what else is on, or check out our lists of the best Paramount Plus movies and the best Paramount Plus shows for even more information.
---
Where is Paramount Plus available?
Paramount Plus is currently available in the US, Latin America, Canada, Australia, and European countries, including the UK, Germany, Italy, and France, and Nordic countries like Norway, Sweden, and Finland. Late 2022 saw it arrive in the Caribbean, and there are still plans for expansion across Africa and Asia.
Is there a free trial for new Paramount Plus subscribers?
For those looking for a Paramount Plus free trial, head to our guide where you can learn about how new subscribers can enjoy a seven-day free trial.
Alternatively, Walmart Plus subscribers can get Paramount Plus thrown in for free with their subscription.
What is Paramount Plus?
Paramount Plus is the rebranded platform of CBS All Access service. Outside the US, most countries don't have CBS All Access, meaning ViacomCBS has little in the way of a streaming footprint. So, while the rebranding part is important for US customers, the global ambition is what matters here on a wider level. 
Paramount Plus draws on a deeper well of content from the parent company's portfolio, with a library of older shows and movies alongside a selection of originals. CBS All Access featured news and sports content, like UEFA matches – whatever US customers enjoyed on CBS All Access now forms a key part of Paramount Plus.
Paramount Plus features over 40,000 episodes of TV shows and more than 2,500 movies, as well as a whole host of original shows to get stuck into.
Internationally, the content will vary depending on current licensing deals. For example, Amazon has the rights to show Star Trek: Picard outside the US as it stands – so don't expect to see an identical library globally.
Paramount Plus cost: How much are plans?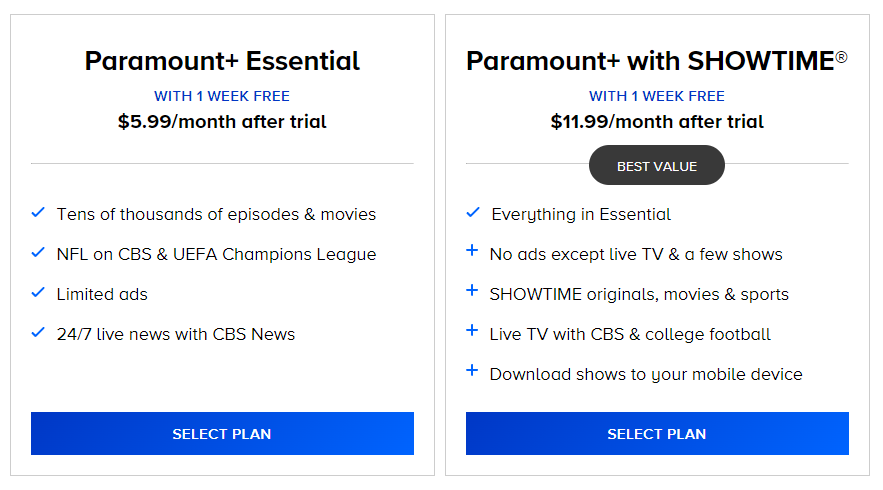 The Paramount Plus price is $5.99 with ads or $11.99 per month without ads.
Paramount Plus Essential delivers tons of great on-demand originals and library content, NFL games, UEFA Champions League, and 24/7 Live News from CBS. This tier includes ads.
Paramount Plus with Showtime delivers tons more content for the upgrade in price. You'll only find ads on live TV and a few select shows, Live TV with CBS and college football, and the ability to download your favorite shows and movies. This tier also gives you full access to Showtime, which lets you check out Yellowjackets, Billion, and reboot Dexter: New Blood. 
You will find a nice little discount if you opt to pay annually for Paramount Plus. Paramount Plus Essential will run you $59.99 per year, and Paramount Plus with Showtime comes out to $119.99. That's an 18% saving overall, making the essential plan $5 monthly, and the Plus with Showtime $10 monthly.
Paramount Plus apps: which devices are compatible?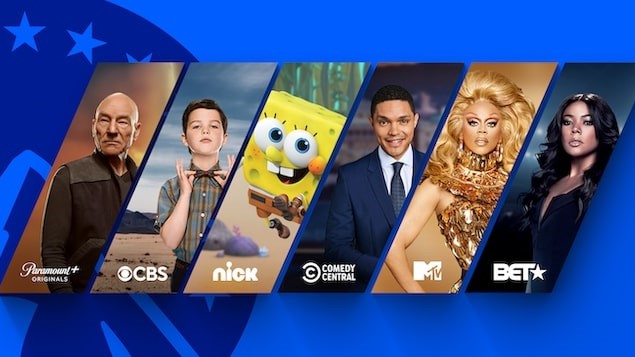 Paramount Plus is available on the following supported devices, according to this help page:
Apple TV ('Supported versions' on 4th Gen and 4K)
Android TV (including Nvidia Shield, Sony Bravia TVs from 2015 onwards, Hisense Android TVs, TCL 3-Series Smart TVs)
Android phones and tablets
Chromecast
Cox Contour box
Fire TV (including Fire Stick and Fire Cube)
Google TV
iPhone and iPad (iOS 11+)
LG TV
Portal TV
PS4 and PS5
Roku (most models)
Samsung TV
Vizio TV
VIDAA TV
Web browsers: Chrome, Firefox, Safari (Max OS X 10.10+) and Microsoft Edge
Xbox Series S and X
Xfinity X1 & Flex 
Paramount Plus shows, movies and originals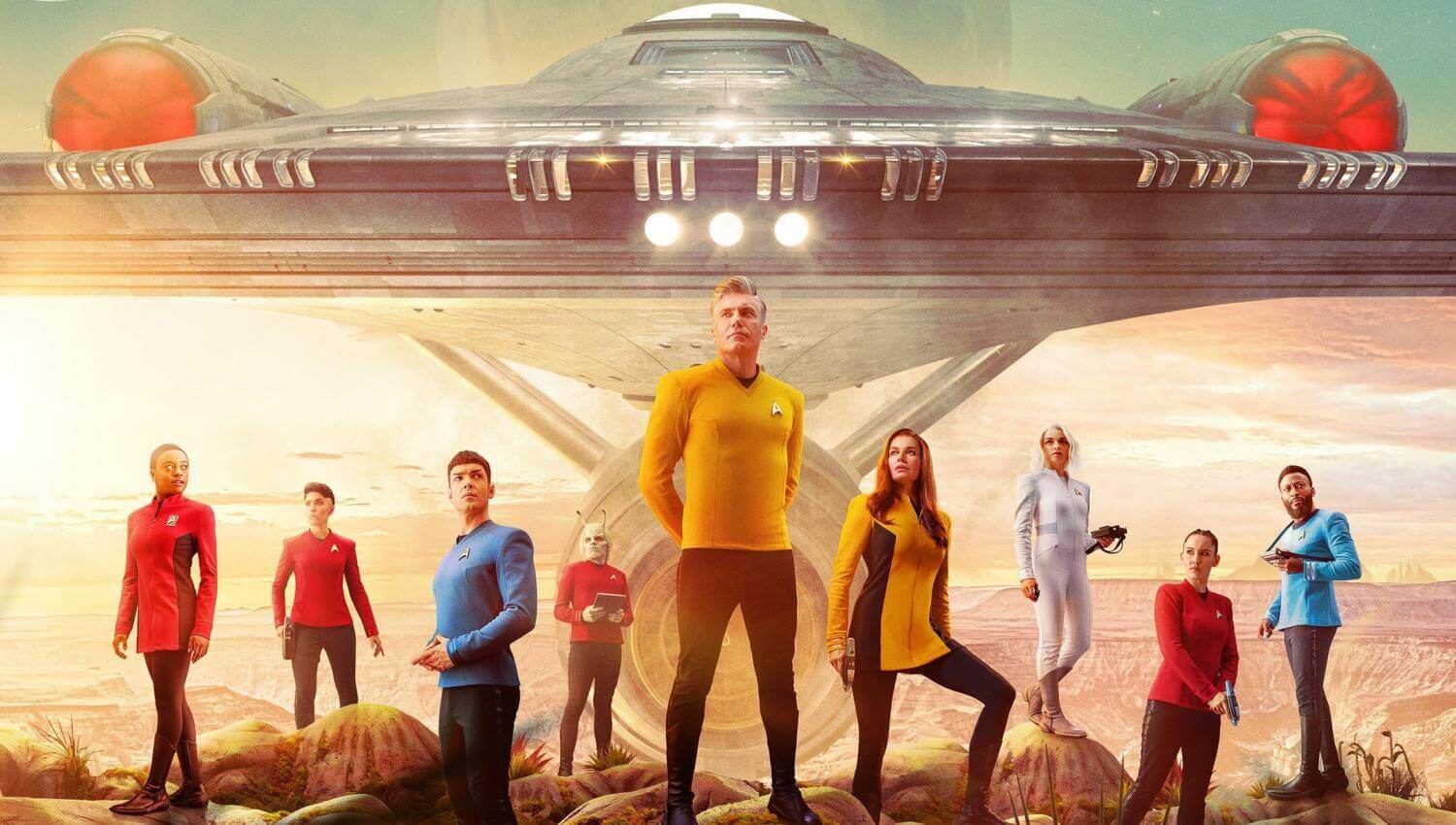 Promising "live sports, breaking news, and a mountain of entertainment," Paramount Plus is already brimming with fantastic TV shows, movies, and live coverage, including exclusive, original shows like Yellowstone prequel, 1883, Mayor of Kingstown, Star Trek: Strange New Worlds, and Clifford the Big Red Dog. They even have exclusive Paramount Original movies like Pet Sematary: Bloodlines. 
In 2022, the platform saw the arrival of Halo, based on the popular games of the same name, which feels like the closest the service has to a massive The Mandalorian-type show. Frasier fans can binge the original seasons before diving into the new revival. 
Sports on the service include UEFA soccer, PGA golf, NFL, NCAA basketball, The Masters, and the National Women's Soccer League.
In terms of movies, your kids will be pleased with the likes of SpongeBob Movie: Sponge on the Run, exclusive to the service. The same goes for Star Trek and Indiana Jones movies, which were available at launch. There are also options for slightly older kids, like Monster High 2, Are You Afraid of the Dark, and Avatar the Last Airbender. With plenty of Nickelodeon content, you won't need to worry about them having shows they'll enjoy.  
After they've made their paid TV debut, Paramount Plus has also made a deal to be the streaming home of MGM's new movies, like No Time To Die, House of Gucci, and Creed 3. 
Other movies span a range of genres and eras, from newer titles like Top Gun: Maverick, Sonic the Hedgehog 1 and 2, Transformers 7, Dungeons and Dragons to older favourites such as Scream, Minority Report, Interstellar, The Wolf of Wall Street and tons of others.
Paramount Plus: What's new for 2023?
There is a huge cohort of movies and shows joining the platform in early 2023. Below, we list the Original shows and movies, followed by movie and show titles that will already be familiar. 
New to Paramount+ in late 2023: Originals
Lawman Bass Reeves
De La Calle 
Colin from Accounts 
Louis Tomlinson: All Those Voices
Bargain
Monster High 2
The Caine Mutiny Court Marshall
Pet Sematary: Bloodlines
Painkiller: The Tylenol Murders 
Frasier 
Vindicta
Milli Vanilli 
Fellow Travelers
New shows to Paramount+ in late 2023:
Ink Master (Season 15)
Isle of MTV: Malta 
Air Disasters (Season 1-7)
MTV Crivbs (Season 19)
Reno 911! It's a Wonderful Heist 
New movies on Paramount+ in late 2023:
The list of new movies coming to Paramount+ is enormous, and whittling it down to a 'best of' list still left us with a huge range of titles, so strap in tight!
Airplane ! & Airplane II: The Sequel 
Akeelah and the Bee
Almost Famous 
Babel
Carrie 
Casino Royale 
Clerks 
Father of the Bride  
Fiddler On the Roof 
For Your Eyes Only 
Good Burger
Halloween VIII: Resurrection
In the Heights 
Malcolm X 
Minority Report
Paranormal Activity 2, Paranormal Activity 3, Paranormal Activity 4
Rambo III
Shaft
Shakespeare in Love
Shirley Valentine
Star Trek Beyond
Megaville
Night of the Living Dead
Octopussy 
Playing Mona Lisa
Quantum of Solace 
Return Of The Pink Panther 
Robocop 
Rocky, Rocky Balboa, Rocky II, Rocky III, Rocky IV, Rocky V 
Scrooged 
Semper Fi 
Showgirls
Smokey and the Bandit 1, 2, and 3
Skyfall 
The Alamo 
The Curious Case of Benjamin Button 
The Defiant Ones 
The Dirty Dozen 
The Host 
The Living Daylights 
The Original Kings of Comedy
The World is Not Enough 
Tomorrow Never Dies 
Train to Busan
Vampire in Brooklyn 
View To A Kill 
Interested in other platforms? Check our our guide to the best Netflix shows to stream right now.