New movies are set to land in theaters worldwide throughout 2023 – and our entertainment experts are here to tell you all about the biggest ones to look out for.
Below, we've compiled a list of all of the best new films that'll make their way into cinemas between now and December 31. That includes highly anticipated offerings from comic book giants Marvel and DC, as well as intriguing indies, heart-pounding horrors, spectacular sci-fi, and more.
With July finally rolling around, blockbuster season has officially arrived, too. Mission Impossible 7, Barbie, and Oppenheimer lead the way on that front, but there are tons of other top-tier films set to arrive in the coming weeks. You'll find all of the most noteworthy summer (or winter, if you live in the southern hemisphere) movies below.
Not to be outdone by their theatrical tentpole cousins, the best streaming services are also set to lots of new movies before the end of the year. Many of them are streaming exclusives (bar the odd exception), though, so you'll only find a couple in this guide. You can read more about those exclusive flicks in our new Netflix movies, new Max movies, new Prime Video movies, and new Disney Plus movies hubs.
For now, here are all of the new movies set to debut this year.
New movies: July 2023
Mission: Impossible – Dead Reckoning: Part One
Release date: July 12 (July 10 in the UK and Australia)
Mission: Impossible – Dead Reckoning: Part One (or Mission: Impossible 7, if you're in a rush) has endured so many scheduling delays that it previously featured on our list of 2022's biggest upcoming movies. Now ready for release, Top Gun: Maverick hero Tom Cruise will have hit 60 by the time this entry hits cinemas, too, and it'll also supposedly mark the penultimate outing for Ethan Hunt, the actor's famous action hero. 
Having delivered the long-running franchise's best instalments with Rogue Nation and Fallout, Christopher McQuarrie is also back behind the camera for number seven and its follow-up. Plot details are currently wrapped up tighter than a government vault, though the bombastic first Mission Impossible 7 teaser did give us our first glimpse at Hunt and company's return to action. A new Dead Reckoning – Part One trailer arrived online in mid-May, and teased Cruise's most death-defying stunt yet.
To prepare yourself for the chaos to come, check out our ranking of the Mission: Impossible movies released so far.
Oppenheimer
Release date: July 21
Having messed around with our perceptions of time in the back-to-front, front-to-back Tenet, Christopher Nolan returns to reality with the first biopic of his career. The subject is J. Robert Oppenheimer, the theoretical physicist who led the Manhattan Project to develop the first atomic bomb during World War 2 – and arguably one of the most intriguing figures of the 20th century.
Regular Nolan collaborator Cillian Murphy plays the titular scientist, alongside a big-hitting supporting cast including Emily Blunt (as Oppenheimer's wife, Kitty), Matt Damon (as military supervisor Leslie Groves), and Robert Downey Jr (as businessman Lewis Strauss). 
Most eyes, though, will be on the superstar director and how he applies his ingenious storytelling tricks to real life. The structure of Nolan's Dunkirk played around with the conventions of World War II movies, so don't be surprised if he takes a similarly bold approach with this biopic. We're also expecting Oppenheimer to be a big part of next year's Oscar conversations.
While you're here, why not start a rewatch of the director's greatest hits with Christopher Nolan movies ranked guide?
Barbie
Release date: July 21
Having appeared in a couple of Toy Story movies, Mattel's iconic doll is no stranger to the big screen. Even so, Barbie's first outing as the headline attraction is a genuinely intriguing prospect, and its official trailer all-but-confirmed how surreal (and potentially brilliant) the whole enterprise could be.
So, what's Barbie about? It'll involve the eponymous doll (played by Margot Robbie) and long-standing boyfriend Ken (Ryan Gosling) traveling to the real world after Barbie has an existential crisis. Based on all of the trailers and character posters, there'll be tons of Barbies and Kens (and one Allan) to get to know as well.
Lady Bird and Little Women director Greta Gerwig is behind the camera (she also co-wrote the script with Marriage Story's Noah Baumbach), so Barbie promises to be much smarter than your average toy-to-screen transfer. Indeed, the 2001: A Space Odyssey-inspired Barbie teaser, which arrived in December 2022, suggests the film will be less a celebration than a satire on a doll whose original incarnation now feels incredibly outdated.
One to watch back-to-back with Opperheimer? Go on, why not.
Haunted Mansion
Release date: July 28 (August 11 in the UK and August 31 in Australia)
Disney continues its quest to turn theme park attractions into movies (see also Pirates of the Caribbean and Jungle Cruise) with its second crack at a Haunted Mansion adaptation.
Star Wars: Ahsoka star Rosario Dawson plays a single mom who moves into a creepy haunted mansion – the clue's in the title – with her nine-year-old son (Chase W. Dillon). Exorcism advice will be available courtesy of an all-star cast featuring LaKeith Stanfield, Owen Wilson, Tiffany Haddish, Danny DeVito, and Jamie Lee Curtis.
This being the House of Mouse the scares are likely to be of the jumpy variety rather than the kind that gives you nightmares. But, with The Heat, Ghostbusters and Parks and Recreation writer Katie Dippold on scripting duties, there'll hopefully be plenty of laughs, too.
Talk To Me
Release date: July 28
A24 has become the go-to studio for all things indie horror in recent years. From Midsommar to Pearl, the independent entertainment company has created some of the scariest and dread-inducing horror films of the past decade.
Talk To Me, which arrives in late July, looks like it'll continue A24's dominance in this field. Directed by the Philippou brothers, Talk To Me follows "a group of friends [who] discover how to conjure spirits using an embalmed hand. They become hooked on the new thrill, until one of them goes too far and unleashes terrifying supernatural forces". One to stick on your new movies watchlist if you like creatively frightening flicks.
New movies: August 2023
TMNT: Mutant Mayhem
Release date: August 4
The world's most fearsome fighting team has had as many big-screen reboots as Spider-Man, so it's no surprise this fourth incarnation has seemingly taken inspiration from the visually amazing Spider-Man: Into the Spider-Verse and Spider-Man: Across the Spider-Verse. 
Shepherded to the screen by Seth Rogen and regular producing partner Evan Goldberg, TMNT: Mutant Mayhem brings a unique, almost painterly style to its animation. If the story's as innovative as the visuals, which look totally cowabunga in its first trailer (and its official trailer, which you can view above), we're in for a treat.
Newcomers Nicolas Cantu, Micah Abbey, Shamon Brown Jr, and Brady Noon voice a younger-then-usual Leonardo, Donatello, Raphael, and Michelangelo. Support comes from Jackie Chan on board as rat-shaped mentor Splinter and Ayo Edebiri as April O'Neil, the news reporter who befriends the heroes in a half-shell. Rogen also bags himself a role, teaming up with WWE wrestler-turned-Peacekeeper star John Cena to play mutant henchmen Rock Steady and Bebop.
Meg 2: The Trench
Release date: August 4
If TMNT: Mutant Mayhem doesn't look like your idea of a good time for early August, maybe this over-the-top, Jason Statham-starring sequel will do the trick.
Statham and iconic action star Wu Jing become embroiled in more ancient shark-based action horror adventures when the pair's latest voyage is thrown into disarray by a malevolent mining operation in the deep sea. Cue a bunch of megalodons (that's humungous sharks, for anyone not in the know) looking to make Statham and company their next human delicacy of a meal.
Ben Wheatley (In The Earth) directs Meg 2: The Trench – the film's based on The Trench novel by Steve Alten – from a script penned by The Meg's Jon Hoeber, Erich Hoeber, and Dean Georgaris.
Gran Turismo
Release date: August 11
With film studios finally nailing the video game movie formula – look at The Super Mario Bros. Movie and Sonic the Hedgehog as proof of that – you can expect an explosion of gaming flicks in the coming years.
The next major gaming franchise to receive the big screen treatment will be Gran Turismo, which races into theaters in August and sees Stranger Things' David Harbour shift gears in this high-octane flick that's inspired by true events.
The film adaptation, which has been helmed by District 9's Neill Blomkamp, is certainly packed with star power – Harbour, Lord of the Rings' Orlando Bloom, and Shazam! Fury of the Gods' Djimon Hounsou count among its sizable cast. And, with its plot based on a true story about a Gran Turismo player whose gaming skills helped him to become a professional race car driver, you can expect this movie's classic underdog plot to win hearts and minds later this year.
Blue Beetle
Release date: August 18
With all the hype about James Gunn's new slate of DC movies, and Shazam! Fury of the Gods, The Flash, and Aquaman and the Lost Kingdom all landing in theaters this year, Blue Beetle has slipped under the radar. It's easy to see why, too, seeing as the movie – which was originally set for an HBO Max (soon to be renamed Max) debut rather than a theatrical release – centers on a lesser known hero from the DC pantheon.
That said, Blue Beetle is of the same vintage of Superman, Batman, and Wonder Woman, having made his first appearance back in 1939. He gets his powers (most notably an impervious suit of armor) from a magical scarab, and this big-screen debut will focus on Jaime Reyes (played here by Cobra Kai's Xolo Maridueña), the third man to bear the Blue Beetle mantle in the comics. 
The movie's first trailer arrived in early April, and it seems that the Tokusatsu-inspired Blue Beetle could be the best DC movie in years. Color us surprisingly excited for one of DC's new movies for the year.
Strays
Release date: August 18
Live-action talking animal movies are a dime a dozen these days – but you've never seen one like Strays, one of August's new movies.
The R-rated comedy, which comes from New Girl and The Playbook's Josh Greenbaum, and American Vandal's Dan Perrault, stars Will Ferrell as a border terrier named Reggie. Abandoned by his selfish owner Dough (Will Forte), Reggie joins forces with a gang of other strays – Bug (Jamie Foxx), Maggie (Isla Fisher), and Hunter (Randall Park) – to exact revenge on his drug addicted, former best friend.
Strays is a comedy flick that could go either way with audiences later this year. Based on its first teaser, you'll love or hate what's on offer.
New movies: September 2023
Cobweb
Release date: September 1
In his feature film directorial debut, Samuel Bodin (T.A.N.K, Batman: Ashes to Ashes) will attempt to give us all an early scare with horror movie Cobweb in early September.
The flick sees eight-year-old Peter plagued by a mysterious tapping noise every night inside his bedroom wall. His parents (Cloverfield's Lizzy Caplan and The Boys' Anthony Starr) claim it's all in his head, but it isn't long before the terrified Peter begins to suspect his own kin are part of the problem. And, for a young kid, what's more scary than your own parents being the potential suspects behind the terror-inducing goings-in in your own home?
The Equalizer 3
Release date: September 1
Academy Award winner Denzel Washington returns for his third and potentially final stint as former government assassin Robert McCall in The Equalizer 3, which debuts in theaters this September.
Settling down in Southern Italy to leave his previous life (and trauma) behind, McCall begins to find a surrogate family in the populace of the small town he "retires" to. However, when McCall finds out that the locals are controlled by the local mafia, he finds himself taking on the violent criminal organization to protect those who have given him a second chance of a quiet life.
Directed by Antoine Fuqua (The Equalizer 1 and 2, Emancipation), The Equalizer 3 will kickstart 2023's Fall 2023 movie slate.
The Nun II
Release date: September 8
It seems there'll be a new horror movie every week in the lead-up to Halloween 2023. That's becoming more of a fact-based observation, too, now that The Nun II has an official release date.
Set in France in the mid-1950s, the sequel to 2018's appropriately titled The Nun sees Taissa Farmiga return as Sister Irene. After the events of the first movie, Irene is forced to confront the seemingly all-powerful demon known as Valak once more. Who's to say who'll come out on top in round two?
Michael Chaves, who directed The Conjuring: The Devil Made Me Do It, will surely utilize his experience on that horror film to deliver more jump scares and other horrifying visuals in this latest Conjuring spin-off. Ian Goldberg and Richard Niang (Eli, The Autopsy of Jane Doe), with the help of Akela Cooper (M3GAN, Malignant) have penned the script.
Poor Things
Release date: September 8
This surrealist sci-fi rom-com flick – courtesy of director Yorgos Lanthimos – could be one of the early frontrunners for the 2024 awards season.
Poor Things stars Emma Stone (La La Land, The Amazing Spider-Man) as Bella Baxter, a young woman brought back to life by the brilliant but unorthodox Doctor Godwin Baxter (Willem Dafoe). Initially, Bella is keen to relearn the wonders life has to offer her under Doctor Baxter's protection. It isn't long, though, until she longs for adventure – running away with debauched lawyer Duncan Wedderbaum (MCU star Mark Ruffalo) to explore the world.
Little else is known about Poor Things – we've only seen a 30-second teaser so far – but it seems like another bizarre, steampunk-style Wes Anderson-like movie that you'll gaze upon in awe.
A Haunting in Venice
Release date: September 15
Kenneth Branagh's third outing as iconic detective Hercule Poirot looks to be his most spooky one yet (and, after the tepid response to Murder on the Orient Express and Death on the Nile, hopefully a better film this time around).
A Haunting in Venice finds Poirot reluctantly attending a séance on All Hallow's Eve (Halloween, basically) in the beloved Italian city. When one of the guests is brutally murdered, however, the exiled detective must use all of his deduction-based skills to get to the bottom of another whodunnit-based scenario – albeit one soaked in supernatural sensibilities.
Branagh, who also directs the threequel, is joined by Oscar winner Michelle Yeoh (Everything Everywhere All at Once), Jamie Dornan (Belfast), Kyle Allen (Rosaline), Tina Fey (30 Rock), and Emma Laird (Mayor of Kingstown) as part of another stacked ensemble cast.
Challengers
Release date: September 15
Any movie starring Zendaya is a film worth watching, and Challengers looks like it won't be any different.
The multitalented superstar portrays Tashi Duncan, a tennis prodigy-turned-coach who's married to struggling champion Art (Mike Faist) in the middle of a horrific losing streak. It isn't long, though, before Tashi and Art's pasts collide with their present. Her ex and his former best friend – washed up tennis star Patrick (Josh O'Connor) – is pitted against Art in a high-stakes match, leading to a tense showdown that might be the making or breaking of the film's lead trio.
There's always something explosive going on in the world of sports, and Challengers' plot certainly had its fair share of shock value when you take its overarching narrative into account. Here's hoping it lives up to its *ahem* top seed billing.
The Expendables 4
Release date: September 22
Nearly a decade after their last mission, the gang's getting back together for a fourth round of extremely muscular, '80s-influenced action. Jason Statham, Sylvester Stallone, Dolph Lundgren, and Randy Couture reprise their roles from earlier adventures, and this time out they'll be joined by new recruits 50 Cent, Megan Fox, Tony Jaa, Andy Garcia and, as the lead villain, The Raid's Iko Uwais.
The team's latest operation is currently filed under 'top secret', so the best intel we have to go on is an IMDb listing saying "the Expendables will square up against an arms dealer who commands the might of a massive private army". Seeing as this is one franchise where you definitely know what you're getting, fans probably won't need to learn any more before snapping up their theater tickets.
The Creator
Release date: September 29
Have you ever wanted an epic dystopian sci-fi movie that blends The Terminator, Star Wars, and The Last of Us together? The Creator is the film you've been waiting for if so.
Gareth Edwards (Godzilla, Star Wars: Rogue One) is back with another thrilling big screen adventure, which this time stars John David Washington (Tenet) as a soldier fighting an artificial intelligence (AI) uprising on a neofuturistic Earth. However, when Washington's Joshua locates the apparent world-ending weapon that threatens humanity's existence – that being a humanoid child (played by newcomer Madeleine Yuna Voyles), Joshua's mission becomes much more complex as he chooses to protect the girl at all costs instead.
With shades of Blade Runner, Avatar: The Way of Water, and The Mandalorian in its multi-genre makeup, The Creator could be the surprise hit of the year.
New movies: October 2023
Kraven the Hunter
Release date: October 6
Sony dives back into the wallcrawler's rogues' gallery with their latest effort to expand the SSU (Sony's Spider-Man Universe), which is simultaneously separate from the MCU and tenuously connected (all thanks to Spider-Man: No Way Home and Venom: Let There Be Carnage). 
In the '60s, Kraven the Hunter was an original member of Marvel's Sinister Six (alongside Doctor Octopus, Electro, Mysterio, Vulture, and Sandman), and was discussed as a potential big-screen foe for Peter Parker. Now, he's following in the footsteps of fellow anti-heroes Venom and Morbius by headlining his own movie. And, just like his villainous contemporaries, Kraven's first solo live-action adventure doesn't look all that appealing.
Aaron Taylor-Johnson (who has previous superhero form after playing Quicksilver in Avengers: Age of Ultron) plays the titular hunter, and the star told Variety that the character is "not an alien or a wizard. He's just a hunter, a human with conviction. An animal lover and a protector of the natural world. He's a very, very cool character". West Side Story Oscar-winner Ariana DeBose will play long-term Kraven associate Calypso. The Many Saints of Newark's Alessandro Nivola takes on lead villain duties as Rhino, while Russell Crowe is also on hand to play Kraven's emotionally cold father.
Killers of the Flower Moon
Release date: October 6
Based on David Grann's award-winning book of the same name, Killers of the Flower Moon is acclaimed director Martin Scorsese's next attempt at ending his Academy Award drought.
And, based on its first teaser, it seems to be a shoo-in for the 2024 Oscars. With an *ahem* killer cast including Leonardo Di Caprio, Robert De Niro, Lily Gladstone, Brendan Fraser, Jesse Plemons, and John Lithgow, plus its stunning Western period crime drama setting, Killers of the Flower Moon has catapulted itself to the top of our new movies wish list.
Set during the 1920s, it'll follow the investigation that, well, followed the Oklahoma Murders, which saw multiple members of the oil-rich Osage Nation tribe brutally killed in unexpected circumstances. Co-produced by Apple Studios, it'll eventually arrive on Apple TV Plus after its theatrical run.
Five Nights at Freddy's
Release date: October 27
After years in development hell, the Five Nights at Freddy's (FNAF) movie is ready to terrify a whole new audience when it arrives in time for Halloween.
Based on Scott Cawthon's hugely popular indie horror videogame series of the same name, the FNAF movie follows a troubled security guard named Mike Schmidt (The Hunger Games' Josh Hutcherson) as he starts his new night-based job at Freddy Fazbear's Pizzeria. Unbeknownst to Mike, though, the restaurant's cuddly animatronic animals come to life after hours – and they'll stop at nothing to shove anyone they find into a similar animatronic suit with life-ending consequences. In short: all Mike has to do is survive, well, for five nights and unravel the horrifying secrets within the pizza parlor's walls.
FNAF's diehard fanbase has responded well to the movie's first teaser, albeit with one major criticism of what's been shown so far (its official trailer, which you can watch above, was released on June 28). Expect this one to be one of the spookiest sleeper hits of 2023.
New movies: November 2023
Dune: Part Two
Release date: November 3
The most disappointing thing about Denis Villeneuve's Dune movie was its non-descript ending. But, as anyone who's sat through David Lynch's flawed 1984 movie will tell you, slicing Frank Herbert's classic sci-fi novel in two was way preferable to squeezing it into a single film.
 And, while Warner Bros. weren't prepared to gamble on shooting the two movies back-to-back, they got the cameras rolling pretty quickly when the first film performed wonders at the box office. The first trailer teased all sorts of thrills, sci-fi spills, and Timothée Chalamet's Paul Atreides riding a sandworm in what's expected to be a sci-fi-based war epic. Dune: Part Two's official trailer, which you can watch above, also gave us our first look at Christopher Walken's Emperor Shaddam IV among other eye-popping moments.
This follow-up will see an already impressive ensemble cast bolstered by Elvis's Austin Butler, Black Widow's Florence Pugh, No Time to Die's Léa Seydoux, and the needs-no-introduction Christopher Walken. Expect epic action, trippy sci-fi, and some very big worms when Atreides resumes his mission to save the desert world of Arrakis. A worthy inclusion in our new movies list.
The Marvels
Release date: November 10
A direct sequel to a movie and two of the best Disney Plus shows, the MCU's third big screen outing of 2023 brings together Captain Marvel's Carol Danvers (Brie Larson), Ms Marvel's Kamala Khan (Iman Vellani) and WandaVision's Monica Rambeau (Teyonah Parris). 
We already saw Danvers and Khan inexplicably switching places in the Ms Marvel finale. And, with The Marvels' first trailer finally landing online in mid-April – it's giving us the team up vibes of 2012's Avengers – the film's trio of heroes will have to learn to work together in order to thwart another universe-spanning evil masterplan from those pesky Kree individuals.
Samuel L. Jackson reprises his role as near-ubiquitous overseer Nick Fury, so it'll be interesting to see how the movie ties into upcoming MCU TV show Secret Invasion. Elsewhere, Fresh Meat and Velvet Buzzsaw star Zawe Ashton plays the antagonistic Kree warlord Dar-Benn, while Goose – the cute cat/flerken sidekick who cost Fury an eye – is also set to return.
The Hunger Games: The Ballad of Songbirds and Snakes
Release date: November 17
Don't worry, Katniss and Peeta still get their happily ever after. Rather than throwing them back into the rough-and-tumble of the arena, this first return to Panem since 2015's Mockingjay: Part 2 is a prequel, set during future-president Coriolanus Snow's early days in the Capitol. You can watch the first teaser, which landed on April 29, above.
At this stage, Snow's still a long way from the dictator played by Donald Sutherland in previous Hunger Games movies. With his family's status diminished in a post-war Panem, Snow reluctantly agrees to mentor Lucy Gray Baird, a new tribute from District 12 (Katniss' future home). He sees something in her, however, that might help him improve his status in the Capitol – and we all know how that's going to turn out in the end…
Billy the Kid's Tom Blyth and West Side Story's Rachel Zegler play Snow and Baird alongside the sort of stellar cast that's become a franchise hallmark – Jason Schwartzmann, Peter Dinklage, and Viola Davis are also on board. The Ballad of Songbirds and Snakes is also based on Hunger Games creator Suzanne Collins' novel of the same name, and will be the fourth film in the series directed by Francis Lawrence. In other words, you've got to hope the odds are very much in its favour.
Wish
Release date: November 22
It's hard to believe Disney celebrates its 100th year in 2023, and the world-renowned entertainment company is going all-out to commemorate a century of wowing viewers across the world.
Just a few short weeks after The Walt Disney Company officially celebrates that landmark birthday on October 16, it'll release Wish, a brand-new animated film that combines the studio's award-winning and influential 2D and 3D art styles into a new kind of family friendly flick.
Ariana DeBose (West Side Story) voices Asha, who travels to Rosas, the kingdom of wishes, to have her wish granted by its magical ruler King Magnifico (Chris Pine). When her request isn't approved, though, Asha makes a wish so powerful that it's answered by a cosmic force, known simply as Star. Along with Asha's pet goat Valentino, the duo embark on a quest to save Asha's kingdom from a looming darkness, which King Magnificio may have a hand in ushering in. Here's hoping it lives up to the lofty heights we've expected of animated movies from Disney.
New movies: December 2023
Wonka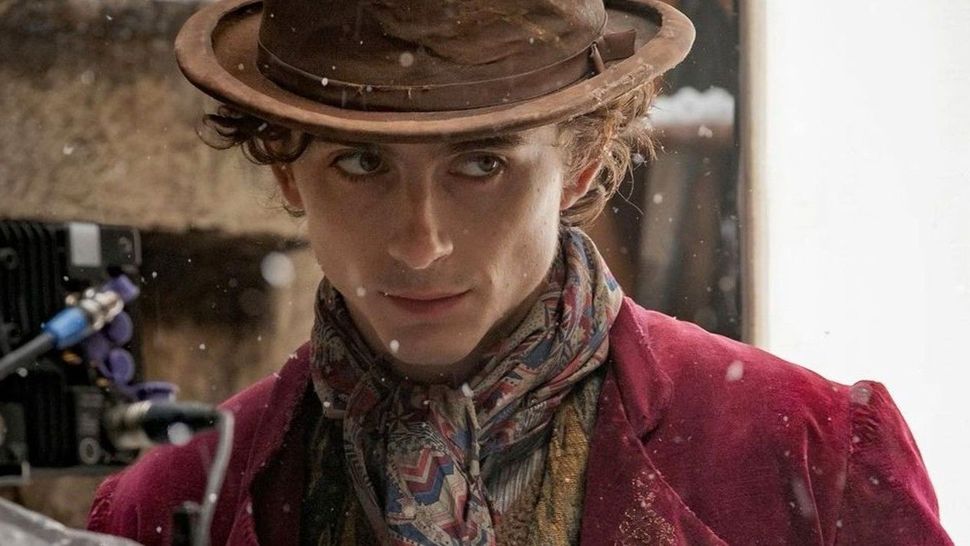 Release date: December 15
In Hollywood, it turns out even chocolatiers have backstories. This Charlie and the Chocolate Factory prequel goes beyond the Roald Dahl source material to imagine what Willy Wonka got up to before he went into business manufacturing everlasting gobstoppers and Whipple-scrumptious fudgemallow delights.
Dune star Timothée Chalamet dons the top hat as a younger version of a character previously played by Gene Wilder and Johnny Depp, and has described the movie as "so sincere, it's so joyous". And while that could easily be PR fluff, we actually believe him. 
Wonka is directed by Paul King, the man who turned both Paddington movies into instant, heart-warming classics. Intriguingly, the movie's also a musical, and features songs written by The Divine Comedy's Neil Hannon. Here's hoping it's one of the best new movies to debut around Christmas time for a while.
Untitled Ghostbusters: Afterlife sequel
Release date: December 20
Ghostbusters: Afterlife brought a small-town, Stranger Things-like vibe to the veteran spook-hunting franchise, but this follow-up seems set to – at least in part – bring the action back to the Big Apple. Spoiler alert, but an Afterlife end-credits scene showed original Ghostbuster Winston Zeddemore taking Ecto-1 to the old firehouse, and that movie's director Jason Reitman has since teased a return to one of the most famous locations in cinema.
Beyond that, details are thin on the ground. We know that Gil Kenan, director of the 2015 Poltergeist reboot, is replacing Reitman behind the camera. It's also been confirmed that Finn Wolfhard, Mckenna Grace, Carrie Coon, and Paul Rudd will return from the Afterlife cast, alongside franchise newcomers Kumail Nanjiani, Patton Oswalt, Emily Alyn Lind, and British comic James Acaster. Will bustin' still make us feel good? We'll find out in December.
Aquaman and the Lost Kingdom
Release date: December 20
Despite Aquaman 2 having been originally scheduled to hit theaters on December 16, 2022, it's now due to wash up in December 2023. Going by the less internet-friendly title of Aquaman and the Lost Kingdom, this superhero sequel will continue the underwater adventures of Jason Momoa's DC superhero. 
It'll reunites the Game of Thrones actor with original co-stars Amber Heard, Yahya Abdul-Mateen II, Nicole Kidman, and Patrick Wilson – although the level of Heard's involvement reportedly remains up in the air – and will see the titular character forced to "forge an uneasy alliance with an unlikely ally to protect Atlantis, and the world, from irreversible devastation." Expect even more comic book carnage, then, though UK viewers will have to wait until December 29 to dive in.
The Color Purple
Release date: December 25 (January 25, 2024 in the UK)
Alice Walker's Pulitzer Prize-winning novel is getting a big screen glow up – following early 21st century its stage musical adaptation – in time for Christmas 2023.
The Color Purple tells the tale of Celie Harris Johnson (played here by Fantasic Barrino) and the extraordinary, albeit at-times horrifyingly abusive, journey she goes on in the early 1900s. Halle Bailey, Taraji P. Henson, Danielle Brooks, Colman Domingo, Corey Hawkins, and H.E.R. are among its starry cast.
Blitz Bazawule (Black Is King, The Burial of Kojo) directs from a screenplay penned by Marcus Gardley (Maid, The Chi). Oprah Winfrey and Steven Spielberg are part of the movie's world-famous producing team, too.