Back4Blood released back in 2021, giving players the chance to jump into co-op zombie-slaying action reminiscent of the Left4Dead games. It proved to be a tricky beast, with terrifying monsters and one hell of an ultimate difficulty setting.
Playable on Xbox Series X|S, Xbox One, PS4, PS5 and PC, Back 4 Blood offers players a distinct, ongoing plot. The game follows a group of do-gooders called Cleaners as they attempt to safeguard the remnants of humanity from their base at Fort Hope. Back 4 Blood also has an occult element, pitting you against the "Children of the Worm" a cult who worship the parasite responsible for the apocalypse. Read on to find out more about this interesting take on the genre. 
Back4Blood has been supported post-launch with a number of major updates that added weapons, new cleaners and more. Here's whether the game is set to receive any more updates.
Back 4 Blood final update: cut to the chase
What is it? Rivers of Blood is the last Back 4 Blood update
When can I play it? Available now
What can I play it on? PS5, PS4, Xbox Series X|S, Xbox One, and PC
Back 4 Blood update: is there more on the way?
Back4Blood is unfortunately not getting any more DLC or updates. This was announced back in December 2022, just after the release of the final update, Rivers of Blood.
River of Blood was released on December 6 2022 and is available through the Annual Pass, Deluxe Edition and Ultimate Edition of the game.
Back 4 Blood itself was released on October 12 2021 and is available on PS4, PS5, Xbox One, Xbox Series X|S and PC. The title is also available on Xbox Game Pass. Since its initial release, Back 4 Blood has enjoyed several updates, with River of Blood being the third full expansion so far. You can check out the patch notes on the Back 4 Blood website. 
Back 4 Blood final update: trailers
The last Back 4 Blood trailer shows off the River of Blood storyline. Starting off with a creepy monologue from one of the leaders of the Children of the Worm, after which we hear from Tala, the latest cleaner to be added to the game. As an ex-member of the cult, herself, Tala certainly brings a fresh perspective to the horrors of Back 4 Blood's bleak setting. 
We later learn that the cult has kidnapped Tala's brother, and it's up to the Cleaners to get him back. We also see a glimpse of "Jeff" a Tallboy that Tala has brought under her control through creative use of electrodes.  The trailer also teases new cards, weapons and boss battles for players to enjoy. 
Trailers for previous updates, as well as game modes added post-launch can be found on the official Back 4 Blood YouTube channel. These include a trailer for the Trial of the Worm mode (which was released concurrently with River of Blood for free) as well as a trailer for the previous expansion: Children of the Worm.  
Back 4 Blood final update: Rivers of Blood Campaign
River of Blood adds a new six-chapter Act for players to experience. The new Act takes the Cleaners further from the sanctuary of Fort Hope than ever before in search of the Children of the Worm. 
With the help of Tala, a rogue cultist and the latest Cleaner to join the roster,  you'll be able to take the fight to the cult, and, maybe, rescue Tala's sister Derek in the process. As the name implies, you'll be travelling by boat to dangerous new locales. You'll be confronting some pretty serious cultists, too, so you'd do well to keep your wits about you. 
Back 4 Blood final update: Cleaners
Tala is Fort Hope's last Cleaner to be added to the game. She's an ex-member of the Children of the Worm, looking to make amends for her past. She's keen to win over the people of Fort Hope so that they might help her rescue her brother Derek from the cult's clutches. 
Before the collapse, Tala wanted to attend Berkeley to pursue her passion for robotics. Though the Collapse ensured that her dream would never become reality, she's still been able to harness her skills, using her scientific knowledge to control a Tallboy that she affectionately calls "Jeff". 
Tala's Team Effect causes a Warped Chest and a Whistle to spawn on any mission you take her on. Warped Chests offer legendary weapons as loot, but also debuff the party with a corruption card, so are best opened sparingly. The Whistle can be used to summon "Jeff", her Tallboy accomplice. Having a massive zombie work for you for a change can be a great way to even the odds in a tight spot. 
On top of all this, Tala's attacks also cause bleeding damage. This also applies to her melee attacks, too. 
Back 4 Blood final update: weapons and items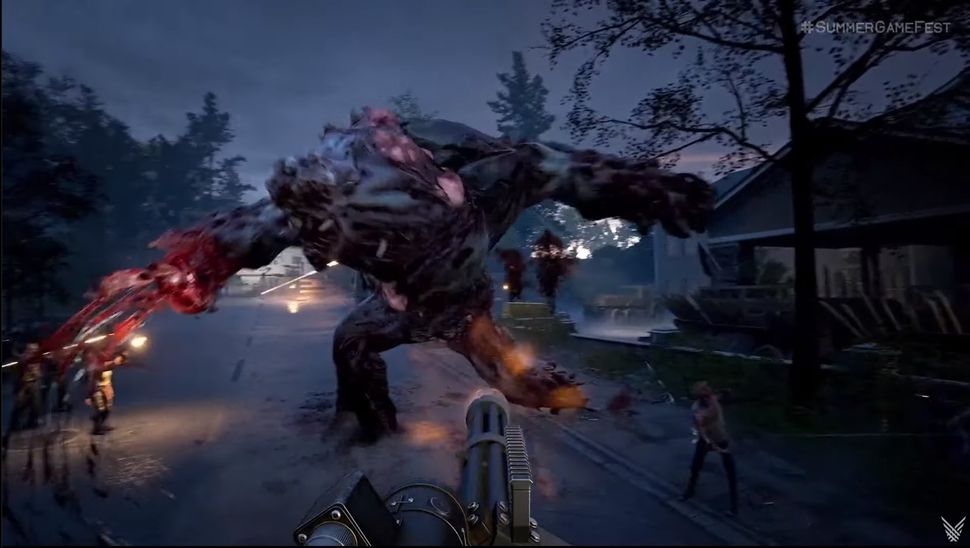 River of Blood brought with it a handful of new weapons and items:
Flamethrower: Produces a cone of flame that can incinerate enemies
LAW: A rocket launcher with an impressive damage output
Jeff's Favorite Whistle: A dog whistle that summons Jeff, Tala's domesticated tallboy
Back 4 Blood final update: Enemies
River of Blood introduced six new threats in the form of the Armored Soldier and Sentinel Mutation Types which include the Lobber, the Swarmer and the Wailer. 
The Armored Soldier is a common Ridden Variation that acts as a stronger version of the standard Armored Ridden. This enemy type have helmets to protect their weak spots as well as a resistance to Razor Wire. A well-placed shot can relieve it of its helmet. 
The Sentinel Mutation Types are a group of new Ridden who excel at defensive fighting. The Wailer lays sacs of gas on the ground, while the Swarmer produces a horde of larvae that chase down nearby Cleaners. Lastly, the Lobber specializes in throwing incendiary projectiles at its enemies. Dealing with any of these Sentinels will require a level head and effective use of the terrain.  
Back 4 Blood final update: Cards
River of Blood introduced a bunch of new cards, offering you new ways to customize your playstyle. Here's a list of the latest additions to the roster: 
Cleansing Fire
Drone Spotter
Empowered Assault
Ether Bomb
Hazmat Specialist
Phosphorous Tipped 
Sonic Disruptor
Wasteland Chef
So there you have it, that's it for Back4Blood updates. If you're still playing the game, be sure to check out our guides on Back 4 Blood achievements, Back 4 Blood crossplay. and Back 4 Blood cards.