Avatar: Frontiers of Pandora has now been fully revealed, and looks to be an open-world action game in the vein of the Far Cry series.
From what we've seen so far, players will be able to explore the world of Pandora, using mounts to traverse its grasslands, jungles and skies with ease. There's both Na'vi and human weaponry to try out as well. 
As it stands, Avatar: Frontiers of Pandora is definitely one of the most anticipated upcoming games of 2023. Here's everything we know about the game so far, including a look at gameplay, the latest trailers, and all the news revealed by Ubisoft. As new details emerge, this page will be updated.
Avatar: Frontiers of Pandora: cut to the chase
What is it? A game set in the world of James Cameron's Avatar movies
When can I play it? December 7, 2023
What can I play it on? PS5, Xbox Series X|S, PC, and Amazon Luna
Avatar: Frontiers of Pandora release date and platforms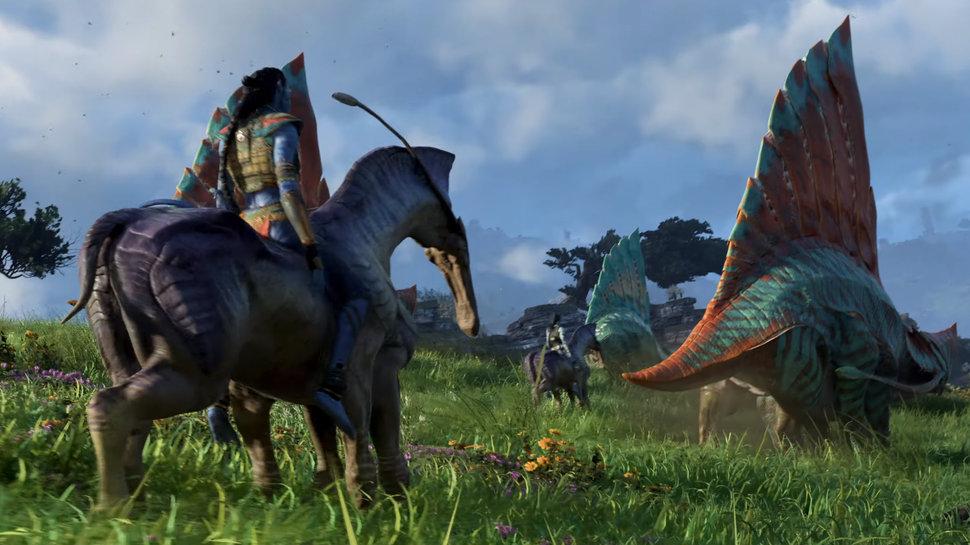 Avatar: Frontiers of Pandora will release on December 7, 2023. That'll be for PS5, Xbox Series X, Xbox Series S, PC, and Amazon Luna. This was recently confirmed during Ubisoft Forward 2023, where new gameplay was shown off.
Avatar: Frontiers of Pandora trailers
The latest trailer for Avatar: Frontiers of Pandora is the World Premiere trailer that debuted during Ubisoft Forward 2023. It gave us a look at more gameplay, but more importantly set the scene as to what the game will be about when it launches. Check it out below:
We've included some key trailers for Avatar: Frontiers of Pandora throughout this article. To see every trailer released for the game so far, be sure to visit Ubisoft's official YouTube channel.
Avatar: Frontiers of Pandora gameplay
From the gameplay trailer embedded above, there's plenty to dig into in terms of how Avatar: Frontiers of Pandora will play. For starters, the game features a mix of first-person and third-person action. Things are first-person when on foot, but switches to third-person when riding mounts or vehicles.
Players will play as a Na'vi, and as such will have heightened agility and movement options. Both human and Na'vi weapons are shown off in the trailers, so it looks as though you'll be able to switch between the two depending on the situation. 
Avatar: Frontiers of Pandora is an open-world action game, looking very similar to Far Cry in terms of its gameplay and mission structure. The world of Pandora can be explored on foot or in vehicles/on mounts, and is filled with flora, fauna and enemy combatants. Vines, and gliding animals allow for quick traversal, and it looks as though there will be light stealth mechanics to dig into as well. Expect side quests alongside the main campaign, as you drive back the RDA and free groups of Na'vi all across Pandora.
There are different regions to explore, each with their own biome. There's a lush rainforest, a region of floating mountains, as well as more open areas. You'll get to bond with your very own flying companion, and can then feed and care for them. The Upper Plains is an expansive grasslands inhabited with giant beasts. It's here where you'll learn how to ride horses. It seems that each region is home to its own tribe, and fauna.
As you play, you will take on RDA encampments, saving animals and Na'vi as you go. By marking enemies, you can identify weak points, then set up traps and explosives to clear groups. Destroying RDA facilities will remove pollution and Pandora will steadily heal, filling up with new resources. 
Avatar: Frontiers of Pandora story and setting
The official site for Avatar: Frontiers of Pandora describes it as a "first-person action adventure" that's set in an "immersive, open world". The description also states that the game will take players into a "standalone story" where they'll "play as a Na'vi and embark on a journey across the Western Frontier, a never-before-seen part of Pandora". 
From the most recent trailer, it also looks like Pandora's native Na'vi will take on the RDA, like in the film, who threaten to destroy their world and have significant armed tech at their disposal. This trailer shows RDA helicopters on the warpath, trying to destroy a Na'vi. The Na'vi jumps on a Great Leonopteryx, firing arrows at the helicopter, before a final arrow fixed with an explosive device hits the vehicle, which then bursts into flames. 
You play as a Na'vi who is captured as a child and trained by the RDA to fight your own kin. After a huge battle on the compound where you're being trained, you are hidden in cryogenic sleep for 15 years. After a long sleep, you wake up, and must fight against the RDA to free your people.
In terms of story, this appears to be a very straightforward tale of a Na'vi trained in human technology, who then fights back against the RDA. This is very similar to what we've seen in the films, but perhaps there will be some surprises along the way. At the very least, this is a different group of Na'vi, in a different region of Pandora.
Avatar: Frontiers of Pandora news
James Cameron shares his thoughts on Frontiers of Pandora
James Cameron revealed his thoughts on Ubisoft's upcoming game during an IGN interview in 2022. Confirming he's taking a hands-off approach, he explained: 
"We're very excited about what Ubisoft is doing with their game authoring. I don't tell them what to do — they know their world, their business, their market. We just keep a close eye that they don't do anything that's not canonical in terms of Na'vi culture and what the RDA is doing on Pandora and all that sort of thing."
Years of post-launch content
Ubisoft is planning a long life for Avatar: Frontiers of Pandora when it releases later this year it seems. In a Q2 earnings call in 2022 (via TweakTown), Ubisoft CFO Frederick Duguet said, "Avatar Frontiers of Pandora is a big game next to the highly-awaited movie. The development is progressing well and is a beautiful world delivered by the Snowdrop engine. That will be a very long game in terms of content delivered over many years."
NPCs will "understand the state of the world"
In a video showcasing the tech behind the game, the development team of Avatar discussed how the game's NPCs will behave and react more realistically to the game's world. In the video, Lead Narrative Realization Designer, Alice Rendell, said that "the different activities that NPCs can perform in the world, and the different animations they have, can make the world feel really alive". As a result, according to Rendell, the team "wanted to take this one step further and created a system where our NPCs understand the state of the world – for example, weather, player progression, or time of day". 
Even plant life will react in some way, with Senior technical artist Kunal Luthra explaining that "the advantage of Snowdrop is that it can handle quite complex shaders". "To add life to the vegetation of Pandora, we've created many interactive shaders that can be affected by the player, from real-time wind simulations and interactions to intelligent plants reacting to your presence," Luthra explained.
That's everything we know about Avatar: Frontiers of Pandora so far. For more on another big Ubisoft game set to release this year, why not check out our look at everything we know about Assassin's Creed Mirage.